Solar Gear Expert is supported by readers. If you buy through links on our site, we may earn an affiliate commission at no extra cost to you.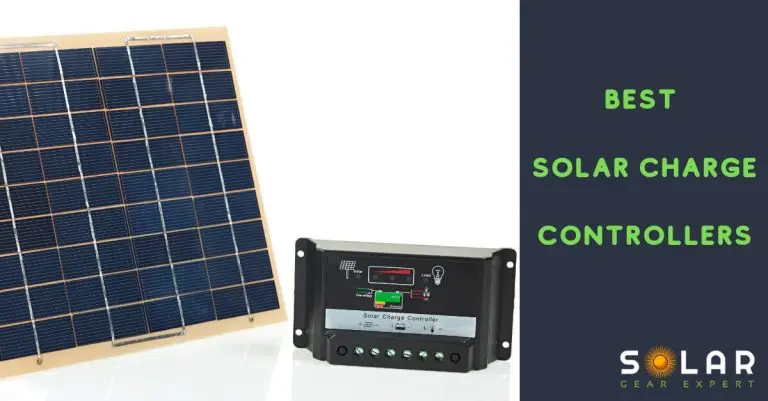 If you are totally new to solar systems and have no clue how to go about finding a solar charge controller, then thank your heavens.
Also, if you've had a bad past experience with solar charge controllers, and are looking for nothing but the best solar charge controllers to improve the performance of your batteries, you are just in the right place.
I will take you through a detailed guide on how to buy a solar charge controller as well as give you insights on how each of the solar controllers I've handpicked fairs in the solar charge controller reviews section. This should help you find the right solar charge controller for your system.
Stick with me.
Best Solar Charge Controllers – Comparison Table
Solar charge controllers differ according to their features and functionalities. Choosing an appropriate controller for your system is critical to its efficiency. A look at this comparison table should help you have a quick overview of each of the solar charge regulators we are reviewing.
Product Name
Victron SmartSolar MPPT 100/20
Battery Temperature Sensor
Support Multiple Charging Systems
Best Solar Charge Controller Reviews
In this section, we review the best solar charge controllers to help you select which one is your perfect match.
1. Victron SmartSolar MPPT 100/20
Tired of your batteries not lasting long and your solar energy system performing poorly, well, you are looking at the solution right here.
The Victron SmartSolar is a great choice for those who are new and unfamiliar with the charge controllers, or even to the whole installation of a solar system.
It does a great job of preventing battery damage from overcharging, or discharge caused by reverse current flow. This increases the durability of your battery and ensures the optimal functioning of your system.
The controller has a patent screen that lets you view all the system's information at your convenience which is a very critical feature.
On top of it all, it is well constructed, compact, and can last for many years. Its portable and lightweight design makes it ideal to carry around for outdoor activities such as camping.
The Victron SmartSolar Charge controller is well known for providing higher current. It can accommodate maximum load wattage of up to 20 amps which is pretty high if you ask me.
Victron SmartSolar allows for intelligent management applications and advanced technology such as wireless Bluetooth. It is the best solar charge controller for RVs and boats.
Pros
Portable
Well constructed
Can be used outdoor
Has a Bluetooth app
Reliable
Cons
Set up process can be tricky
2. Outback Flexmax 80
Outback Flexmax 80 is the best solar charge controller whenever you demand high efficiency, great performance, and versatility for your solar power system. It's one of the most recent sophisticated improvements in MTTP charge controllers by Outback Power.
The key selling point for this device is the capability to sustain broad range battery voltages, and the capability to lower a higher solar array voltage to recharge lesser battery bank voltage.
In addition, it comes with a backlit built-in 80-character display that responds at the touch of a button, to let you see the logged data and current system performance for the last 4 months. Convenient, right?
The Flexmax MTTP software algorithm boosts your array power photovoltaic yield to 30% as opposed to non-MPPT controllers. It has an optimum current rating of 104 F (40C) ambient temperatures.
On top of its ease of use, it comes with a clear discreet casing that makes it fit for both beginners and expert solar energy aficionados.
This is the most practical and suitable solar charge controller for programming and streamlined management. It allows for advanced configurations when connected to a HUB connection manager and a branded inverter.
Pros
High performance
Versatile
Controls a wide range of voltages
Built-in 180 days data logging control output
Increased PV array output
5 year warranty
Cons
Doesn't come with a data connection cable
High purchase cost and other customizable additions
3. Renogy Wanderer
Renogy Wanderer charge controller increases your battery life and boosts the performance of your system by integrating the proficient PWM charging technique. It is in a pretty straightforward interface that makes it easy to use.
The controller notifies you of your battery information using an LCD. It's highly developed for off-grid solar applications and is used with battery banks or 12V/24V batteries. Due to its compact and portable size, installation is such a breeze that doesn't give you much headache.
Another major benefit of this solar charge controller is that it's equipped with an inclusive self-diagnosis and electronic safeguard features. This reduces the chances of fatal damages from system faults and installation errors. It is rated as the best in regards to protective functions and affordability
This is a good pick if you want to power small size systems. It not suitable for large household grid tie-arrays.
Pros
Easy to operate
Highly efficient
Compact size that makes installation easy
Has advanced self diagnosis and electronic safeguards
Low price points
Cons
Float voltage is not adjustable
Has not LCD for displaying crucial diagnostic data
4. ALLPOWERS 20A
This is a solar charge battery intelligent regulator that is fitted with a 12V/24V USB port display. It functions effectively to monitor the relationship between your panel and your battery.
If you are working with a tight budget, this is definitely worth checking out. It is a low priced but good quality product that makes a good addition to your solar energy system.
This charge controller provides a great option for home applications including charging of phones and other gadgets, thanks to its dual USB and adjustable power rate. The device is equipped with STM industrial-grade microprocessor, three-stage charge management, and PWM 4-stage charges that boost the safety and lifespan of your battery.
The LCD screen of the ALLPOWERS charge controllers is easy to use. It clearly indicates all system's data and you can conveniently switch between modes for parameter configurations.
ALLPOWERS is fit for indoor use since its working temperature is between -350 to 600; while the outside temperature can rise up to 750 especially on hot and sunny days. To maintain excellent heat dissipation, keep it in a well ventilated and cool place.
Pros
Easy to install and operate
Prevent lighting strike
Effective in its function
Cons
Not fit to be used outdoor
Not suitable for larger solar energy systems
5. Renogy Adventurer 30A
The Renogy Adventurer is a negative ground solar charge controller-hence compatible with all negative ground applications. It allows all negative connections on a solar system, load, or battery to be earth ground safely and essentially.
Its 4-stage PWM smart charging and temperature reimbursement increases the life of your battery and enhances the overall performance of your entire system. It also offers an intelligent defense against overcharging, reverse polarity, and short-circuits.
In addition, its surface mount accessory design lets you mount it on your wall, giving it an elegant sleek look.
This controller features a backlit LCD screen that clearly displays all operating information or error alerts. You will be very grateful for this feature when the time to troubleshoot comes.
Its front display has a 4A USB port that you can use to charge other gadgets such as mobile phones, speakers, or tablets. The RS232 port also enables you to use the Renogy BT app or communicate with the BT-1 Bluetooth application.
The PWM Renogy Adventurer model is now able to charge almost all Lithium batteries due to its programmable Lithium charging.
Pros
Suitable for negative ground systems
4A USB and RS232 ports
Surface mount design
Compatible with Lithium, sealed, flooded or gel Batteries
Cons
Built-in features can have some bugs that make its navigation difficult
6. Onesolar 60A MPPT Solar Charge Controller
OneSolar 60A MPPT is among the most reliable Solar Charge Controllers that does what it is intended to do in an efficient way. It features an LCD display that makes it easy and clear for you to view data in your system.
This charge controller provides multiple protection against overload, overcharge, short circuit, over-discharge, overheat, reverse polarity, and under voltage. It has a minimum power tracking rate of more than or equal to 99% and its maximum conversion is at least 98%. Quite high as you can see.
The charging options supported by this controller include Gel, Sealed, Flooded, and user-defined.
Lastly, it shows real-time statistics of the system's energy status, current, and power generation curve.
This item features a dual peak tracking technology that tracks the maximum power point accurately, even when your solar panel has multiple peaks on I-V resulting from being shadowed on falling.
Pros
Clear LCD display
Versatile
Support multiple charging systems
Comes with a warranty
Cons
Limited capacity of 20A
No backlight display
7. Renogy Rover 60 Amp
If you are looking for a solar charge controller that offers you nothing less of efficiency, here is your perfect match. The Renogy Rover positive ground charge incorporates the MPPT innovative technology that has up to 99% tracking efficiency and 98% peak conversion efficiency.
This charge controller has not only an LCD screen but also incredible LED indicators that display all operation data, error codes, and other customizable factors. You'll not have to worry about your system experiencing short-circuit, reverse current, overcharging, overload on discharging. The controller provides great protection against such problems.
It's equipped with an RS232 port that allows communication with BT-1 Bluetooth and pairing with the Renogy BT app for smartphones. It also has the ability to charge an over-discharged lithium battery. The charging process is optimized to ensure long life for your battery and improvement in system performance.
This controller from Renogy has comprehensive self-diagnosis and electronic protection features that prevent all damages from system faults and installation mistakes. This makes it safe and highly durable.
Pros
Clear LCD display
RS232 port
Capability to charge an over-discharged battery
Self-diagnosing features
Handle different battery options
Affordable
Cons
Connections can easily break when over tightened
Causes overheating when switched to high voltages
Buying Guide for Best Solar Charge Controllers
It is important that you know when actually you need a charge controller, and the type to select for precise applications. Let's look at some factors you need to understand as you go for a solar charge controller.
What Is A Solar Charge Controller And Who Is It For?
A standard solar solution entails a battery (storage), a panel (energy source), and a charge controller. In every solar installation, a solar charge controller is a critical component whose role can barely be ignored. It regulates the charge from your solar panel that goes to your battery bank.
The charge controller prevents issues of overcharging and reverse current flow. This safeguards the storage gears of your battery and guarantees that all components run safely and efficiently in the system. In the long run, the efficiency and life expectancy of your whole solar system is greatly improved.
Home systems make use of a PV unit for house-hold systems while Street lights convert sunbeams into DC charge using photovoltaic cells. A solar charge controller uses a translator to jolt the charging system of the PV. More advanced controllers utilize the maximum power point tracking (MPPT) or pulse width modulation (PWM) to ensure that your battery is charged. A solar charge controller is an important gadget in nearly all solar power solutions.
Advantages and Disadvantages of a Solar Charge Controller
Solar energy is a renewable power source that is most available and affordable. Modern technologies exploit this energy for a number of uses like providing electricity for domestic lighting and heating or for commercial applications. A solar charge controller is an important part of a solar energy system.
Advantages of a Solar Charge Controller
It charges the battery.
It indicates when the battery is full.
It prevents over-charging and discharging.
Eliminates reverse current.
Increases the lifespan of your battery.
Boost your entire solar system performance.
Disadvantages of a Solar Charge Controller
The initial expense of buying a solar charge controller is fairly high.
Some are affected by weather conditions. For instance, they don't perform well under high temperatures.
Installing and maintaining them is extra work.
Types of Solar Charge Controllers
The widely used technologies used in solar charge controllers are Pulse Width Modulation (PWM) solar charge controller and Maximum Power Point Tracking MPPT charge solar Controller and the Simple 1 or 2 stage charge controller.
1. Pulse Width Modulation Charge Controller
PWM charge controllers are mainly used in small-scale systems. They operate by regulating the flow of energy to the battery by reducing the current gradually. These controllers provide a series of short charging pulses to the battery and also when the battery is full they supply a tiny amount of power to keep batteries full. The solar panel system and batteries must have a matching voltage for effectiveness. Many PWM comes with a diverse set of extra features.
2. Maximum Power Point Tracking
They are widely used in highly efficient systems. They use the full power of your solar panels to charge your batteries completely. They prevent overcharging of batteries by limiting their output although they draw out current from the panel at maximum power voltage.
A charge controller is very essential for operating a small or large system. They act as a gateway to your battery and ensure they don't overcharge and damage your energy storage systems.
3. Simple 1 or 2 stage charge controller
The Simple 1 or 2 stage charge controller is the simplest of them all. It features two main controls – ON and OFF. When the high voltage limit is achieved, the switch goes off to prevent overcharging and similarly goes on to allow charging to resume.
Here is our detailed MPPT vs PWM charge controller comparison.
How does a Solar Charge Controller Work?
For most solar charge controllers, current goes through a semiconductor that functions as a valve to regulate the current. Solar charge controllers also prevent batteries from overcharging, which can damage the batteries. They inhibit energy flow into the battery after reaching a point in voltage. Other important functions of the controller include:
1. Protecting Overload: Your system may overload anytime the amount of current getting into your charge is more than the circuit can hold. This causes overheating and possibly leads to fire outbreaks. Charge controllers offer a crucial function of preventing overloads. In more sophisticated systems, elaborate safety protection with fuses or circuit breakers is recommended.
2. Disconnecting Low Voltage: This happens by an automatic cut off to less critical loads from the battery when voltage goes down below a certain threshold. It avoids an over-discharge and saves the equipment from working on a too low voltage.
3. Blocking Reverse Currents: Solar charge controllers act as a valve to prevent panels from passing current in a reverse direction and discharging the batteries. This mostly happens when it's dark and the panels are not pumping current through the batteries.
Important features of a Solar Charge Controller
Features of your solar charge controller depend on the type you are using for your system. Here we consider some common important features.
1. Low Voltage Disconnect (LVD): It's also known as the load control feature, responsible for instructing the charge controller to disconnect the energy flow of the battery to current loads when the voltage decreases beyond the set point.
2. Load Reconnect Voltage (LRV): This is the set point of the battery voltage where the charger controller reconnects loads in order to get electricity from the batteries. The LRV is typically 1 volt more than the LVD for 12-volt batteries.
3. Lighting Controls: It turns on or off the lights at set periods either during the day or night.
4. Meters: For displaying the voltage of the battery, system amperage or charging progress. Advanced meters allow you to adjust their settings and program them as opposed to read-only meters.
5. Self Diagnostics: They give alerts about operation or installation errors such as a low battery, short circuit, or high temperature.
6. Communication Protocols: Some charge controllers use them to communicate to other hardware such as the PC. They include HTTP, MODBUS, and SMTP.
Setting up a Solar Charge Controller
Environmental conditions and safety distance are two things that you should consider before installing a solar charge controller. You should install it on a solid surface on a site that can easily be accessed at any time. Ambient temperatures should range between 250C to 500C. Other equipment should maintain a safe distance from the charge controller to ensure enough cooling space. Below are the steps to follow when it comes to connection.
The first thing is to remove the cover and open the connection lock. You'll find a wiring terminal for your battery, panel, load, and other components like PC ports and temperature sensors.
Connect your batteries to the solar charge controller. Ensure that positive and negative terminals are properly connected.
Connect DC load to the charge controllers.
Connect the panel modules. Note that solar charge controllers are fit for off-grid solar panel modules of 12V, 24V, and 48V. Open voltage should not exceed maximum input voltage.
Connect other available components.
Common Mistakes and Errors for Solar Charge Controllers
When errors occur within a solar system, charge controllers display the code with their LED. There are numerous types of errors. Below are some of the most common.
Err 2: Too high battery voltage. It is caused by a fault occurring in the charger controller or if the battery voltage falls extremely low.
Err 3, Err 4: Temperature Sensor error. It originates from failure of the remote temperature sensor, or when the temperature sensor is not well connected. It auto-corrects itself after a proper connection.
Err 8: Failure of the remote battery voltage. Check if the battery terminal is properly connected to the V-sensor.
Err 17: Overheated controller. It's due to hitches near the heat sink or irregular ambient temperatures. It auto-resets when temperatures fall back to normal.
Err 18: Controller Over-current. Caused by switching a large load on the battery. If it doesn't auto-reset after some time, disconnect the charge from all sources of power and reconnect after about 5 minutes.
Err 33: PV over-voltage. This indicates that the PV array configuration is critical for the charge in regard to open circuit voltage. If it doesn't fit itself after PV voltage falls to a safe limit, check configuration or reorganize the panels.
Err 65: Communication warning. Shows lost communication with one of the controllers. To clear it, install and reinstall the controller.
Solar Charge Controller Maintenance Tips
There is a need to own a proper functioning regulator. But how can you maintain it in order to get the right output? Follow me as we learn ways to maintain a regulator.
1. Change the Fuse: To protect the circulation of current the charge controller contains two internal fuses. A spare fuse is as well included in the unit. Always check the fuses and replace the blown fuses with the spare.
2. Check the Wire Connection: Modern charge regulators use solid-state electronics with non-movable parts. Therefore, checking the wire connection is always good. This will enhance the cleanliness and security. To avoid resistance and heat which deteriorates the system performance, always make sure the connection is tight.
3. Check the Remote Temperature Sensor: Always check the remote temperature sensor whether it is properly followed to the battery bank. These at times drop and report ambient temperature instead of the battery temperature, which leads to improper charging.
FAQs for Solar Charge Controllers
Q1: What size of a Charge Controller do I need?
If you have a solar system with 12 volts and amps is 14, your charger controllers should have at least 12 amps. You also need to add in 25% due to ecological factors, hence your charger controller ends up with 17.5 amps. In such a case, you'd need to pick a 20 amp, 12 volts charger controller.
Q2: How many Solar Panels can Connect to one Charge Controller?
A standard controller has three strings for solar panels. Classic controllers with a higher voltage may accept 4 or 5, according to the type of the panel and the environment.
Q3: How long does a Charge Controller Last?
This depends on its brand and the environment in which the system operates. When well maintained, it can last for more than 5 years.
Q4: What is the Efficiency of a Solar Charge Controller?
Its efficiency refers to the ratio of the input energy from the PV array to output energy of the controller. Low efficiency entails high energy loss from the controller.
Q5: Can a Solar Charge Controller monitor Data?
Yes. Some controllers have the capabilities to monitor data within the system such as system current, battery voltages, faults and alerts, and any other necessary metrics.
Q6: Can two Solar Charge Controllers serve one Battery?
Yes. There is an option for parallel charging by use of more than one controller with different PV arrays.
Q7: What are the Solar Charge Controller Accessories I should Consider?
These accessories include adapters, meters, relay drivers, sensors of remote temperatures, and other crucial components of the system.
Q8: What is a Charge Controller Rating?
A solar charge controller is rated depending on the amount of power it can accommodate from the PV array and the supported battery voltages.
Q9: What is Self-consumption?
The amount of energy (usually small) that a charge controller utilizes for its own operations rather than supplying to batteries or loads.
Final Thoughts
Your charge controller typically represents approximately 10% of off-grid power system expenses. Although batteries can be around 40% of first-time expenditures and 80% of lifetime costs, the little amount of money you'll save as you deploy a cheaper charger controller ends up being nullified due to the money and time spent on battery replacements.
Talking of cost, the Renogy Wanderer charge controller is your best pick whenever you're on a tight budget. You don't have to dig so deep into your pocket to acquire it. The controller is pretty reliable for its purpose and can give you great service for many years, which means that you get good value for your money.
As I've mentioned earlier, a controller is handy in solving a number of problems like overcharging, reverse polarity, over-discharging among others. This optimizes the overall performance of the system. From our reviewed list, Victron SmartSolar MTTP 100/20 takes the trophy for the best solar charge controller because of its high efficiency, straight forward installation, ease of use, and advanced features such as inbuilt Bluetooth module. I highly recommend it if you are particular about quality and durability.
Victron SmartSolar MTTP 100/20
SmartSolar MPPT 100-Volt 20 amp: A solar charger gathers energy from your solar panels, and stores...
The SmartSolar charge controller will even recharge a severely depleted battery. It can operate with...
Last update on 2021-09-05 at 22:45 / Affiliate links / Images from Amazon Product Advertising API