Solar Gear Expert is supported by readers. If you buy through links on our site, we may earn an affiliate commission at no extra cost to you.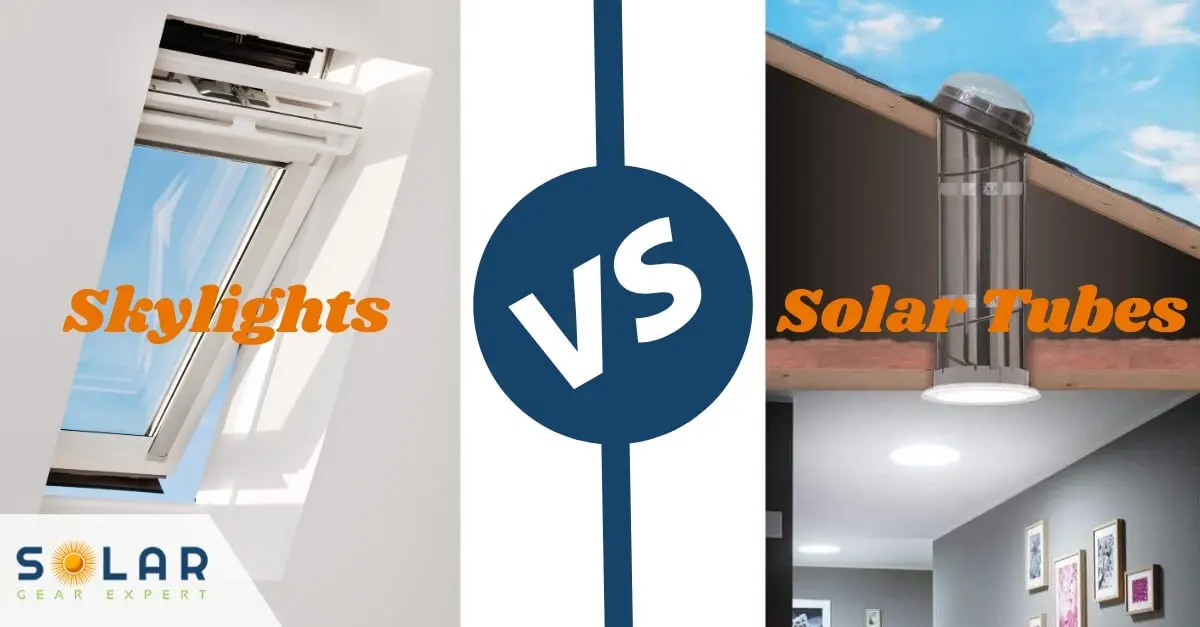 Imagine having the very much coveted natural light in your home – you are assured of an instant mood booster every morning and a breathtaking view of starry skies at night. Or you are simply looking to have additional lighting in a particular room or a hallway.
Natural light will brighten up your space, exuding an aura of luxurious living. It will also bring down your cost of electricity as you will depend less on it.
Skylights and solar tubes offer a great way of achieving the aforementioned. However, you may not be sure which option would work best for you.
That's where we come in.
In this article, we will have a look at skylights vs solar tubes to help you navigate these waters and make an informed choice.
Let's jump right in.
What are Skylights?
You probably have heard about skylights or even seen them. They are basically windows – the only difference is that these "windows" are placed on the roof.
They are made of glass, acrylic, or polycarbonate. They vary in size with the smallest being at least 12 x 12 inches. They can be as large as you'd prefer but it is recommended that they shouldn't exceed 15% of the square footage of your room.
A skylight features a frame, a clear window which is referred to as the glazing, and the flashing which connects the frame to the roof.
What are Solar Tubes?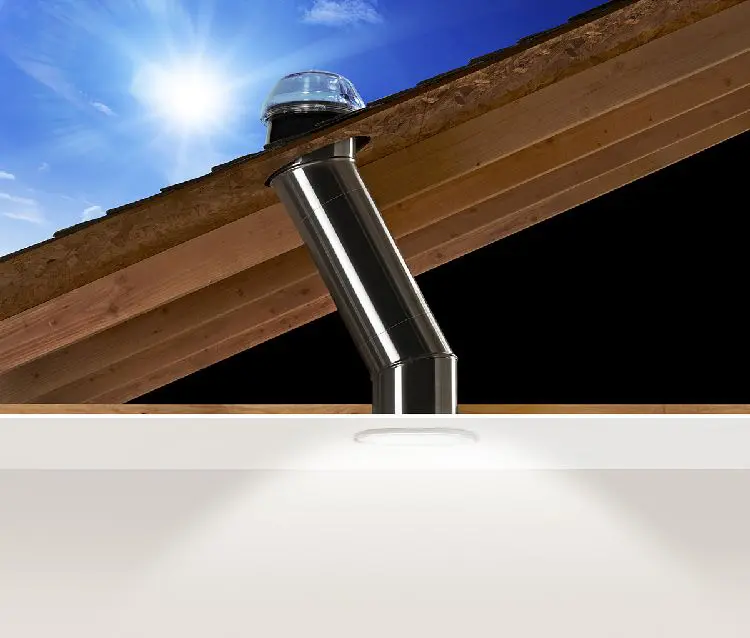 Solar tubes are also known as tubular skylights, light tubes, or sun tunnels. Like skylights, they are also made of polycarbonate or acrylic material. They come in the shape of a dome that is placed on the roof, capturing sunlight and through a metal tube sheet; it reflects the light into the attic. Then diffuses it into the ceiling where you have placed your bulbs.
Solar tube sizes are mostly 10 inches or larger.
Skylights vs Solar Tubes: Detailed Comparison
Let's now have a detailed look at the similarities and key differences between skylights versus solar tubes.
Similarities between Skylights and Solar Tubes
They are both placed on the roof.
They are both made of acrylic and polycarbonate materials.
Key Differences between Skylights and Solar Tubes
1. Cost
Depending on the complexity of the roof and size of the window, installing a skylight will cost between $650 and $1900. This is due to the amount of labor required, additional materials for blocking or reducing UV lights, venting, or coating.
Solar tubes on the other hand are quite affordable, almost half the price of skylights. Basic solar tube materials will roughly cost between $150 and $425 depending on the features and size.
2. Installation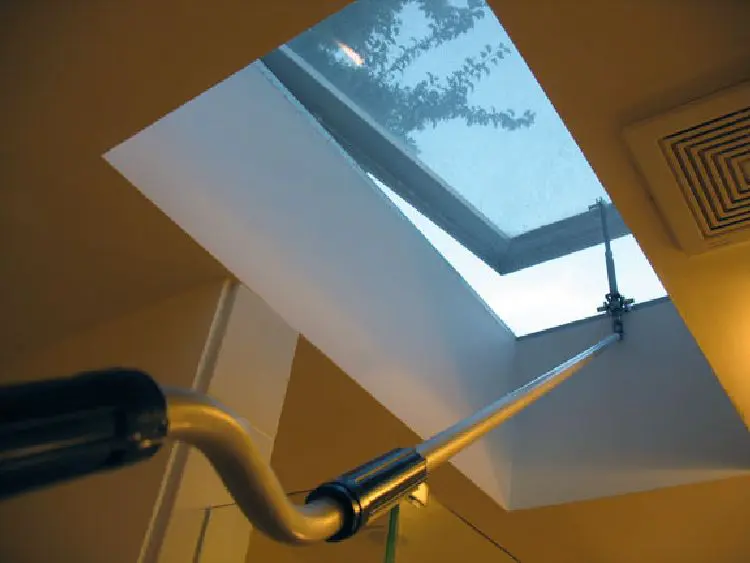 Installing a skylight is more difficult and cumbersome, often requiring the help of a professional. They are known to be prone to leakages mostly due to improper installation. Flashing will need to be done to prevent these leaks. In addition, double rafters will need to be added. All these procedures end up consuming a lot of time.
Solar tube installation, on the other hand, is quite easy. After the dome has been installed, the tube is extended to the ceiling of the room. With minimal finishing works required, the diffuser is then set in place. It can take roughly 2 hours to half a day to install a solar tube.
3. Water Condensation
Condensation is most likely to occur in skylights because of excess moisture that is produced by activities inside the house like cooking, steam baths, etc. A humidifier can be used to reduce it.
For solar tubes, condensation normally happens due to changes in climate, specifically seasons of high humidity. Wrapping the tube with R-15 or R-19 insulation can work best to prevent the condensation.
4. Efficiency in Energy
Solar tubes are more energy efficient when compared to skylights. With solar tubes, light is captured and is easily diffused to light up your room or hallway. Energy is lost with skylights through heat gain as they allow in more direct light than regular windows.
5. Ambience
Skylights improve the appearance of a space allowing you to enjoy the view of a bright sky during the day and star-dotted skies at night. Solar tubes on the other hand enhance ambience by appearing as a light fixture and being non-obtrusive.
6. UV Rays
UV rays are harmful to human beings and furnishings. They can cause eye damage, skin cancer, premature aging, and sunburns. Hence, it is necessary to keep them off as much as possible. Solar tubes are the best way of managing UV rays as they can be blocked right at the dome before finding their way into the tube.
With skylights, these harmful rays can only be filtered.
Solar Tubes vs Skylights: Pros and Cons
Pros and Cons of Solar Tubes
Pros
Easy to install
Affordable
Comfortable, nonporous and smooth surface
More energy efficient
Less heat gain
The light kits are easily available
Minimal interior finishing is required
Can block UV rays
Buyers can enjoy energy tax deduction
Cons
No view of the sky
No resale value
Prone to water condensation
Pros and Cons of Skylights
Pros
Offers a view of the sky
Can filter UV rays partially
Adds to home's resale value
Can be shaded or vented
Adds to the room's general appearance
The natural light provided is an instant mood booster
Cons
Difficult to install
Expensive to purchase and install
The unfiltered UV rays can be harmful to residents and furnishings
Prone to leakage
Requires more interior finishing
Less energy efficient
More heat gain
Prone to condensation
FAQs
Q1: Do Solar Tubes work at Night?
No, they don't. However, if you require light at night, you may need to consider purchasing a solar tube that has an electric light included.
Q2: How can I Clean my Solar Tube?
Get a strong ladder and place it against the wall. Also, bring together all the necessary cleaning materials. Gently remove the diffuser and loosen the screws that are holding the dome in place. Carefully remove the flashing.
Use a bucket filled with soapy water to gently clean the tube, ceiling, dome, ring, and flashing. After which you should rinse with clean water and leave them in an airy place to dry.
Use a brush to remove any dust or debris between the roof rafters and ceiling joints. Then use a wet cloth to wipe the skylight tube.
Once all the pieces are dry, insert the tube and screw the flashing in position. Attach the dome then complete the process by placing back the diffuser.
Here is the complete guide on how to clean solar lights.
Q3: How much Light do Solar Tubes Generate?
The 10-inch solar tube is the smallest size available. It generates light equivalent to three 100-watt bulbs which is more than you will require to illuminate a room of about 200 sq. ft. A 300 sq. ft. room can be lit up by a bigger tube of about 14 inches.
Q4: How much Light do Skylights let in?
Skylights can let in three times as much light as ordinary windows.
Q5: Is it possible to Install Solar Tubes in a Multi-level Home?
If you reside in a two-story house, you can still install solar tubes to illuminate the first floor. You could use a closet or a mechanical chase to run the tube through that will channel it all the way down. However, if you don't have a closet or a mechanical chase and you are forced to cut through the flooring, things could become quite complicated really fast.
Q6: Is it possible to Install Skylights in a Multi-level Home?
No, it isn't. There's no tube to channel the light down to another floor. They can only be installed to provide light for the topmost floor.
Q7: Do you need a Permit to Install a Skylight?
Yes, you will require permits to install skylights.
Q8: Are Skylights out of Style?
A few decades ago, people loved the idea of natural light especially those who owned homes with high ceilings. However, as years have elapsed, skylights have become less popular.
Final Thoughts
Skylights and solar tubes are both great options for natural light to find its way into your home. They can help reduce your reliance on electric lighting.
Solar tubes may not offer the much coveted view of the sky; however, the advantages of installing them are numerous that you can easily overlook this aspect. They are easy to install, pocket friendly, can block the harmful UV rays, are more energy efficient as well as brightening up specific areas like dark hallways or bathrooms.
Some of the benefits of skylights include providing a breathtaking sky view, improving a room's ambience, and adding to your home's resale value. However, they are quite costly and difficult to install.
After such an in-depth look at skylights vs solar tubes, which of these alternatives according to you scoops the medal?
Well, you can now make the choice without much of a hustle!
Last update on 2021-09-05 at 22:45 / Affiliate links / Images from Amazon Product Advertising API