Solar Gear Expert is supported by readers. If you buy through links on our site, we may earn an affiliate commission at no extra cost to you.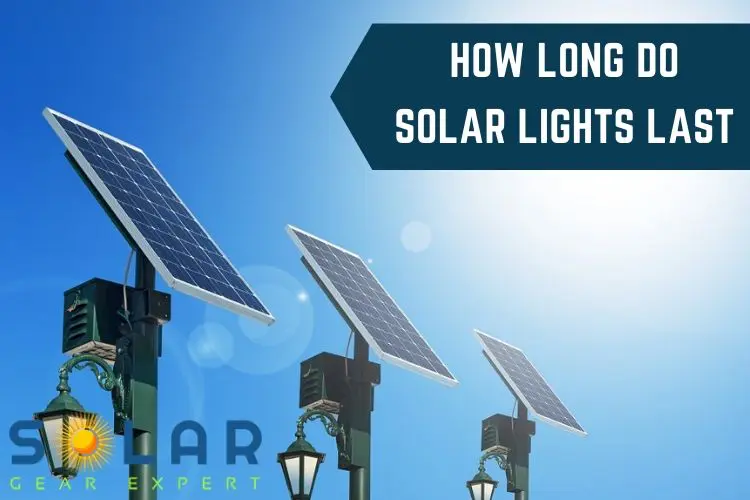 Since people around the globe are choosing sustainable energy products, therefore solar-powered lights remain at the frontrunner position! The significant benefit of using solar light is that it uses renewable energy, i.e. the sunlight, and has zero effect on your monthly energy bills.
But the vital question is how long do solar lights last? Do they last forever? Or is there any limited lifespan associated with these lights?
In this article, you will get complete information about solar lights, along with their lifespan. Also, the article covers a multitude of tips that will assist you in keeping your solar lights last longer than ever.
Types of Solar Lights
There is a myriad of solar lights available, and you can use them to leverage the power of renewable energy. You can get solar lights for your garden, lawn, and patio as these are the only areas outside the roof of your house.
Every type of solar light has its own benefits, and using them is pretty fun since you don't have to pay for their illumination. Here are the typical types of solar lights you can buy for your home.
1. Path Lights
Solar path lights are identical to garden lights in terms of appearance, but these are even brighter and better. You can stake a solar path light just like a garden light, and it will serve you by illuminating the path during the dark.
Also, solar path lights are weatherproof since these are manufactured to withstand the test of time, so they usually run longer as compared to regular path lights.
2. Garden Lights
Garden solar lights are perfect for lighting your garden whether you love decorating it or you need just a little more light to relax in your backyard.
These lights look attractive and have enough power to light up your garden based on how many solar lights you are using.
You can easily install a solar garden light as these lights are specifically designed for this purpose.
3. Motion Sensing Lights
If you want more security around your house, then motion-sensing solar lights could be an excellent option. These lights come equipped with motion-detecting sensors and can turn on after detecting some activity in a specific area.
If you use a motion-sensing solar light on the main door of your property, then it will welcome you by turning on every time you arrive at the door, and you can see everything better, especially during the dark.
4. Spotlights
Solar spotlights are perfect for highlighting a particular object. These lights are very powerful and offer an intense beam of light. If you have some artifacts placed in your garden or backyard, then solar spotlights are excellent to use.
5. Wall Sconces
Solar wall sconces can draw attention to the architecture and décor of your house. You can use them just like an ordinary wall sconce, but without connecting any power supply. Switching a traditional wall sconce with a solar wall sconce is a good idea as it will save you money on your energy bills, and can offer if not equal then better illumination.
Benefits of Solar Lights
Getting a new solar light for your house means investing money, as these are not available at very low prices! And switching to a solar light is of no use if it has no benefits at all.
But you would be glad to know that switching to solar lights can be a fruitful decision. There are umpteen benefits associated with using solar lights, and you can only enjoy the perks after switching all the outdoor convention lights with solar lights.
1. Saves Energy
With solar lights, you can conserve a lot of energy as these lights only require solar energy and nothing else. Additionally, solar lights are ideal for the environment since they need no energy derived from burning fossil fuels. When you save energy, then you directly save money, with fewer energy bills.
2. Easy to Install
Installing a conventional outdoor light involves a tedious process as you have to install the wiring as well, and connect it with the power outlet. Also, land digging is needed for laying down electricity pipes, which requires extensive labor work. But this is not the case with solar lights. There is no need to install any wires.
Solar lights are entirely independent and don't need an additional power source to work. As a result, installing them is pretty straightforward and easy.
3. Intelligent Control
Most of the solar lights come with a built-in smart system that turns on/off the light automatically. There is a sensor that detects the darkness and turns on the solar lights, so these are more economical and safe.
You can rest assured that the light will not remain on the whole time, even if you are not at home.
4. No Hassles of Cable Thefts
Cable thefts are quite common in the remote areas. And if someone steals a cable, the whole power system can shut down immediately. With solar lights, there is no need to lay down wires, so there is no need to worry about any possible thefts.
5. No Dependency on Electricity
Power outages are inevitable. Also, there is a possibility that the power system of your home can fail. If this happens, all the lights of your home will turn off, including the outdoor lights as well. On the other hand, solar lights are only dependent on solar energy.
No matter whether there is a power outage or not, the solar lights will remain on during the nighttime, and that is an undeniable benefit.
How long do Solar Lights Last?
Coming back to the important question, how long do solar lights last! It depends on a plethora of factors like maintenance, climatic conditions, and battery health.
Generally, the lifespan of the batteries is around 2-years, and then they become incapable of holding enough charge to keep the lights turned on. When it comes to the LEDs, then these can last somewhere around 10-12 years, which is considerably good.
If you keep on replacing the batteries every two years, then you can use solar light for about ten years (approximately). But you can enhance the lifespan of your solar lights by following some easy tips.
7 Tips for Helping Your Solar Lights Last Longer
Are you wondering how to make solar lights last longer? Well, it's not that hard! Just go through these tips and attain good longevity from your solar lights.
1. Clean the Solar Panel Frequently
Cleaning is the key to enhance the lifetime of the solar lights. With time, dust can accumulate on the solar panel, and it dodges the sunlight back into the sky, which means that the panel will not be able to deliver its true potential.
You should clean the solar panel every week to make sure that it recharges the battery fully, and remains functional throughout its life. All you need is a piece of cloth or a wipe, and then you can clean the panel thoroughly.
If you live in an area with harsh weather like frequent storms, then you can tweak the cleaning cycle to twice a week.
2. Turn the Lights Off During Thunderstorms or Rains
If the weather forecast predicts rain or a thunderstorm, then switch off the solar lights at the earliest. Lights with glass are more prone to damages, and a thunderstorm can leave the whole setup damaged. If there are frequent storms predicted in a row, then you should take off the light to store it under the roof.
3. Use a Clear Paint Coat to Enhance Protection
Your solar light can turn foggy with time due to the formation of a cloudy layer of dust over it. This layer will decrease the performance of the light, and it will not illuminate your area like before. Get high-quality clear paint and use one coat over the glass to eliminate the formation of the foggy layer.
Note: Use high-quality paint, and don't settle down with an average quality clear paint, because it involves enhancing the lifespan of your solar lights.
4. Store the Light during Prolonged Winters
When winters knock down the doit is the time to take off the solar light to store inside your house. This will help you in improving the solar battery lifespan, as batteries can get dead in spine chilling weather. Also, in winters, very less sunlight is available, and the solar panels don't get enough power to recharge the battery.
Wrap the solar light properly and store it till the clear weather returns back.
5. Don't Install Solar Lights Near Street Lamps
Street laa mps have robust lighting system to spread the light in a dedicated area. If you place a solar light near a street light, then the sensor would not detect the dark due to ample light available. As a result, the performance of the solar light will dip.
Install your solar lights in areas with lesser light available like your garden or backyard. Placing the solar light in any other direct light source will result in a decreased lifespan.
6. Replace the Batteries on Time
Replacing the batteries on time is another sure-shot way to make the solar lights last longer. When you use the light on almost a dead battery, then you will get less lighting, and the LED can get fused due to lack of current.
Keep in mind that the batteries last somewhere around 2-years, so you should replace them before they get expired.
Here are the different types of batteries that you can use for your solar lights.
7. Don't Experiment with the Bulb
Some people complain about damaged solar lights and dead batteries while replacing the bulb. The reason behind it is using the wrong bulb. If you are using a bulb that requires more power than the battery offers, then it can harm the battery cells.
Drawing the battery too frequently reduces the capacity of the battery, and thus the solar light delivers a lesser lifetime. Always use the bulbs of ideal size or as recommended by the manufacturer.
FAQs
Q1: Can I Make My Solar Light Even Brighter?
The best way to make your solar lights even brighter is by using new batteries. Sometimes, the batteries wear out as they age, and it impacts the brightness of the solar light. Place new batteries in the compartment to make the light brighter again.
Another way to make the solar light brighter is by installing it far away from a direct light source. The light detecting sensors of the solar light automatically reduce the brightness if there is enough light available in the surroundings.
Q2: My Solar Light Remains On During the Day, What Should I do?
Solar lights can remain turned on during the day if the sensor is covered up by dust or dirt. Check the sensor and if you see any dust formation, clean it ASAP. In some cases, the sensor stops functioning, but these cases are rare, and you need to contact the manufacturer if it happens with you.
However, you can follow this solar light troubleshooting hack to make it work, if the primary culprit is dirt accumulation.
Q3: Do Solar Lights Deteriorate as They Age?
Yes, the batteries, bulb, and the solar panel deteriorate as they age. Solar lights are not built to stay forever, but you can enhance their lifespan by following the tips mentioned above in this article.
Final Thoughts
How long do solar lights last is one of the most-asked question, and I hope that the information available in this article is enough to address all of your queries.
Investing in a solar light is a good idea if you want to cut off your consumption of non-renewable energy. Moreover, you will get an excellent return for your money, as these lights can last around 10-12 years so you can light up your garden or outdoor area for years to come.
Make sure to buy a branded solar light if you want a decent experience with it, because renowned brands offer commendable after-sales services, and the quality of their products is top-notch.
Last update on 2021-09-05 at 22:45 / Affiliate links / Images from Amazon Product Advertising API